Drag Night Minto Pride
Minto Pride Fundraiser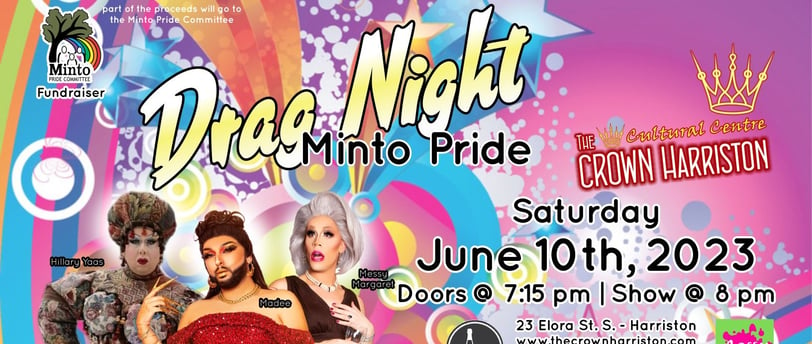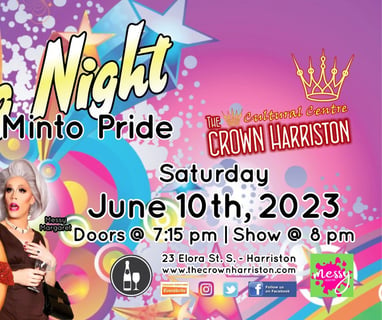 Town of Minto is Proud to be full of Pride and it Shows!

For the special occasion of "Drag Night - Minto Pride" Messy Productions will be performing at our annual fundraiser for the Minto Pride Committee!
Performing on Saturday June 10th, 2023 at The Crown Harriston in Harriston, Ontario.
Bringing high volume entertainment to all of you. Messy Margaret Productions presents some amazing drag talent from Southern-Ontario, and is excited to share some of these magnificent entertainers with you!
The Queens of the show: Messy Margaret, Madee Lovegood and Hillary Yaas
This is going to be one memorable night!!
HILLARY YAAS
Hillary Yaas is an award winning stand up, sketch and improv comedienne in a wig! Appearing on Season 4 of Camp Wannakiki premiering on OutTV this fall (she's the first Canadian on the show!), she's one half of the comedy duo Yaas & Vyle whom she also co-hosts and helps to produce their Canadian Podcast Awards winning podcast "Squirrel Talk!" (2021 Best Film & TV Podcast) and ALSO one half of Messy Productions which creates incredible and successful drag shows across Toronto! You can find out more about this campy queen (and book her) at hillaryyaas.com @hillaryaas
MESSY MARGARET
Messy Margaret is Toronto's premiere dragtress and comedy queen. She has appeared on stage and on screen, but most importantly, she has become one of TikTok's most ignored stars! She has racked up nearly 90K followers through her silly sketches revolving around the restaurant industry. She won Toronto Sketch Comedy's spring sketch competition in 2021 for her original solo sketch The Penne Barn. Messy likes to channel your drunk aunt at a wedding while preforming on stage You can follow her on Instagram and TikTok @messymargaretqueen
MADEE LOVEGOOD
Madee Lovegood is Toronto's bearded baddie with a personality like no other! She is a powerhouse performer and hostess unlike anyone else in the country. Madee Lovegood is the first and one of the only Assyrian drag queens in the world, so she will most definitely serve it to you Ancient City style! You can follow her on Instagram @madeelovegood
MESSY PRODUCTIONS
Messy Productions is a Toronto based queer centred event/production company and was created by Messy Margaret and Hillary Yaas. They are the producers of Drag on the Esplanade, Cecil's Drag Brunch and C.C.'S Drag Bingo. Messy Productions specializes in drag entertainment, but will explore other facets of queer entertainment as well.
Guidelines:
PLEASE READ CAREFULLY
1. Everyone is here for the sole purpose to have fun, & feel safe! (Period.)
2. Please support the venue that is hosting the team, without them we would not be here! (They Thank You)
3. Live entertainment is a tipping culture, this comes in a variety of ways that we will discuss! (We Thank You)
4. The entertainers work extremely hard at their craft! Audience applause is strongly encouraged! (Thank You)
Doors open at 7:15 PM | Show starts at 8 PM
Advance ticket $30 | At the door $35

This is an PG13+ event with parental discretion advised.